We are all about serving our neighbors in need, regardless of race or religious affiliation. When difficult situations arise - a lost job, an illness or unexpected expense - the most basic necessities like food, shelter, medicine, clothing, and transportation can become impossible to afford. Each day there are heartbreaking circumstances right here in our own community, but practical, person-to-person care offered in a respectful and loving way can make a world of difference.
At St Vincent de Paul, we ease an individual or family's initial emergency, then shepherd them into programs that can bring lasting change. Donations made locally are used and distributed throughout Hillsborough County neighborhoods.
St. Vincent de Paul is a registered 501 (c)(3) organization.
Itís About Community
We've been helping people in Hillsborough County since 1932. St Vincent de Paul is one of the oldest and most respected charitable organizations in the area. We thank you for your continued support and loyalty.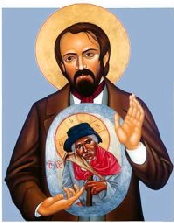 Like that of its founder, Blessed Frederic Ozanam, the vision of the Society of St Vincent de Paul "is to embrace the world in a network of charity."
You Make it Happen
Would you like to get involved? We rely on compassionate men, women and youth to make our work with the poor and homeless possible. Whether working on the front lines or behind the scenes, their joyful gift of service to people in need embodies our mission. Learn more
Benefactors
We appreciate the generous organizations that support our Mission through financial or in-kind donations: US Department of Agriculture , United Way of Tampa Bay , Feeding America Tampa Bay, Sweetbay Supermarkets , Publix and more...Can you help?
Contact Us Now